Aquarius: Story of a Painting, Part 1
Jul 10, 2021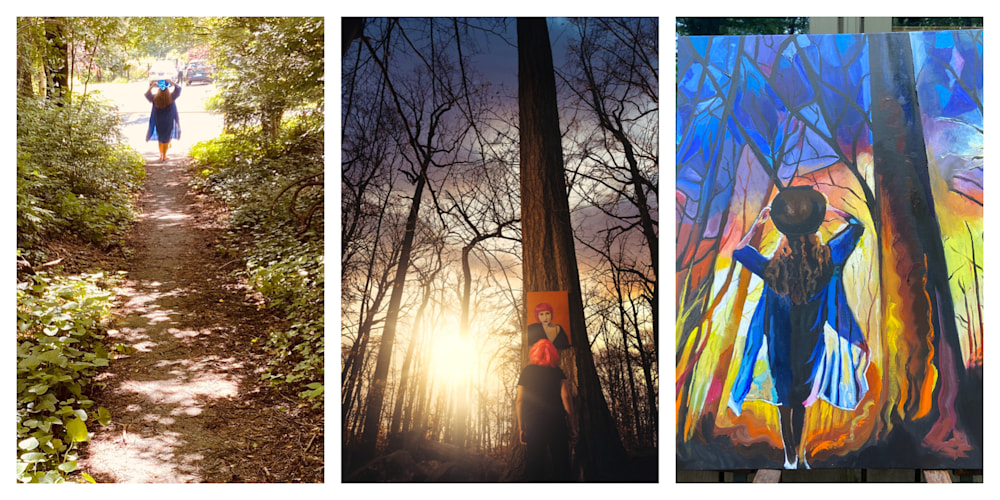 Aquarius is a painting I recently completed for a new series I am doing for my November 2021 show. I had been painting forest scenes as religious art. My (2017) exhibit was entitled, "Altarpieces." I was trying to convey spirit, reverence, and awe in the abstracted scenes I painted. Since the time of my last exhibit, we, as a society, have been through some pretty heavy happenings: 45's presidency, Me Too Movement, protests against police brutality and for Black Lives, COVID... We have experienced confinement like we have never known, which caused many of us to go deep within and examine some of our foundational beliefs and life practices. It felt to me like a dark winter of the soul. And, so, this go-round of paintings, I am revisiting the forest as a place of mystery, folklore, dark magic, fear---an unmapped journey. To do this, I am introducing figures into my paintings. Inserting 'us' into the scenery. Aquarius shows a woman with a water vessel on her head walking into the forest. As my model, I used a photo of my daughter in a graduation gown. She graduated college without fanfare or ceremony in Spring 2020 and was forced to navigate the job market at a time when many people weren't working. When she did get a job in February 2021, she had to do all her training remotely. I, her mother, was privy to the whole process in a way that turned "Take-your-daughter-to-work Day" on its head. This piece tells the story of a young woman striking out into the darkening forest (the world) in hopes of filling her vessel...with experience, with the funds she needs to sustain herself, with confidence. The forest represents an unknown place and unpredictable times. Water represents emotion. For me, as a mother, this piece also speaks to the need to go to the emotional well and fill my bucket, take care of my emotional needs, so that I can be there for my community and my family.
I mentioned the reference photograph I used of my daughter in her graduation gown. I also picked through photographer Joe del Tufo's work to find a stage for my action. I especially love the way he uses a steep point-of-view and sharp lighting to heighten the drama in many of his images. This photo is from a series he did with the assignment of taking inspiration from painter Lauren Peter's self-portrait. I like that there is a golden thread of influence from Lauren to Joe to me. Not only do I count both as friends, but I am a big admirer of their work. Lauren's pieces are self-reflection at its purest.
Aquarius will be available soon as a print on my site.
In Part II of this blogpost, I will explain my process of taking the painting from the reference photographs to finished piece.